Ms. Koofi joined the Protest against killing of Afghan Passengers
STOP PASSENGER KILLINGS!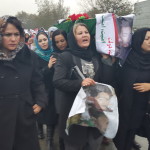 Ms. Fawzia Koofi joined the nationwide protest against killing of Afghan passengers by the armed terrorists.
Ms. Koofi stood with thousands of demonstrators and took to the streets of Kabul on Wednesday with coffins carrying the bodies of seven ethnic Hazara passengers kidnapped and beheaded by the terrirost group loyal to ISIS.
The protests included women and men from Afghanistan's different ethnic groups – Pashtun, Tajik, Uzbek, and Hazara – as they marched on the Presidential Palace to urge the government to take action against rising violence against Afghan civilians.