"ENEMIES OF WOMEN'S FREEDOM WON'T SUCCEED"
|
Gulf News:
"ENEMIES OF WOMEN'S FREEDOM WON'T SUCCEED"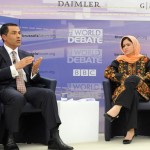 Afghan MP Fawzia Koofi on challenges as a woman politician in Afghanistan and her priorities for the country as a presidential hopeful
Fawzia Koofi, a serving Member of Parliament in Afghanistan, intends to run for the 2018 presidential elections. She claims that her chances of winning are bright, and if she does win, she will be Afghanistan's first woman president.
Koofi, 40, began her political career in 2001 after the fall of the Taliban. Apart from promoting the right to education of girls, the initiatives championed by her include amendment of the Shiite personal status law and the Elimination of Violence Against Women legislation, which is being implemented in all 34 provinces in Afghanistan despite conservative members blocking it.
In 2002 she was employed as a Child Protection Officer with Unicef. In 2005, Koofi became the first woman member of the new Afghanistan Parliament, representing Badakhshan province in the north-east of Afghanistan that borders Tajikistan and China. The same year, she became the country's first woman Second Deputy Speaker.
Having grown up in a political family, politics seemed to be the natural choice for Koofi. Her father Wakil Abdul Rahman was an MP for 25 years. The Mujahideen assassinated him after the first Afghan war that raged from 1979 to 1989.
Koofi's struggles began as soon as she was born in 1975. In the village in Badakhshan where her parents lived, sons were preferred over daughters, and girls were considered worthless. She was the 19th of her father's 23 children. Born to the second of his seven wives, she was left to die in the scorching sun. But a day later, when her mother found that she was still alive, she vowed to give the best to her daughter. She decided to educate Koofi, making her the only girl in the family to attend school.
Koofi's father and brothers were killed in the political unrest when she was still a child. And ever since she entered politics, attempts have been made to assassinate her as well.
Koofi recently visited New Delhi and Faridabad, Haryana, to attend the India-Afghanistan Science Education Action Conclave to strengthen the ties between the two countries through education. The conclave was organised by i-Cube Science Club, founded by Lakshya Pawan Shyam Kaura, the recipient of the 2012 Ignite Award by the late President of India Dr A.P.J. Abdul Kalam. The i-Cube Science Club had earlier trained 16 instructors from Afghanistan, which resulted in the setting up of similar science clubs across the Bamyan province.
Koofi spoke to Weekend Review about her journey. Excerpts:
How was your India experience?
I was very impressed with the level of people's acceptance to new ideas and especially to the i-Cube Science Club initiatives. It was heartening to know how enthusiastically the Indian trainers at the Science Club trained Afghan teachers from the remote province of Bamyan. It was also interesting to see how the bottom-up ideas from the community level have an impact in providing quality education. Individual initiatives and talent are likely to make a big difference to the lives of the youth and will further promote a student-centred education.
Having decided to stand as a presidential candidate in 2018, how hopeful are you of winning? What will your priorities be as the head of the nation?
My priority will always be the welfare of my people. As a politician, I have to keep working in the way that I am campaigning, keeping in mind my grand vision of change in this country. There's a need for the polity to understand that change will not come in Afghanistan if they continue to be led by the same political leaders for decades. As a woman it is not easy to dream of being a president, especially in Afghanistan. Unfortunately, that is so even in a country such as the United States. But I always believe that a thousand-mile walk starts with the first step and am very hopeful of winning.
You've said, "For female politicians all over the world, the challenges are great compared to the opportunities".
Yes, it's a fact. We live in a male-dominated world and despite the fact that women are proven to be strong agents of change in societies, mindsets have not changed. Since politics is not regarded as a traditional profession for a woman, she has to work doubly hard to prove her worth. The usual criticism a woman politician faces is not about her policies or performance, but about her personal life and outlook towards life, which sometimes can make the work environment around her much more tense and complex. But irrespective of it all, we find that all over the world, more and more women have begun joining politics. By setting up new social norms, not predefined by men, they are facing enormous challenges and breaking taboos.
What is the ratio of girls in schools and the parliament in Afghanistan?
Out of the 8-9 million children who go to school, 40 per cent are girls. And out of the 240 MPs at present, 69 are women.
What is the "Back to School" programme being run in Afghanistan?
Launched in 2002, the "Back to School" campaign was jointly initiated by the Afghan government and the United Nations. Through this programme, thousands of girls were sent back to school after the fall of the Taliban, during whose regime, girls were not allowed to go to school. Temporary structures using tents were set up, which operated as makeshift schools all over the country. Millions of books were printed and women were hired as teachers. I too initiated the campaign from my constituency Badakhshan. It has been labelled as an inspiration and the flagship of reconstruction and development efforts in Afghanistan.
Life has been a rollercoaster ride for you and there have been attacks on your life a number of times by the Taliban.
Attacks against women politicians in our country have, unfortunately, become a common scenario. I guess the enemies of women's freedom will continue to target us, thinking that they will be able to silence our movement. But they are unlikely to succeed.
I was attacked twice in 2010. Once near the town of Tora Bora and the second time when I was in the car with my sister, two young daughters and security personnel. We were travelling from the eastern province of Jalalabad to Kabul along a narrow road wedged between two mountains and a river. It was a long drawn exchange of fire by my bodyguards and the Taliban. I continue to receive threats to my life.
How do your daughters cope with the stressful life they have to lead?
My daughters Shahrzad and Shuhra are compelled to lead a very structured life due to security challenges. But they understand and appreciate what I do. They also realise the difficult times their country is going through and are able to adjust to the situation. At the same time, I empathise with them and am quite aware that it might be extremely demanding on them because of the very limited social freedom they have.
What fond memories do you hold of your mother?
My mother passed away 20 years ago. She was a woman of strength who tried to spread happiness all around. Although she was not educated, she was one of the smartest women I have come across. I cherish each moment spent with her and feel proud that she taught me and prepared me to face challenges and adversities.
Why was your father, who you claim is your inspiration, assassinated?
My father represented Badakhshan and served under the Shahs. He was killed by the Mujahideens in 1978 when I was barely three. Since ours is a political family, our opponents have always tried to either kill the members of our family or put them in prison.
What did the Taliban have against your husband?
My husband Hamid Ahmadi was a chemical engineer and a professor at a university. His life was in danger just because he married me. We had been married for only 20 days when the Taliban put him in prison. It happened again in 1997. The last time he spent more than four months in prison in 1999. That's when we decided to leave Kabul and go to Badakhshan after his release. Meanwhile, he had contracted tuberculosis and died in 2003 after four years of illness.
Nilima Pathak is a journalist based in New Delhi.