The Favored Daughter: One Woman's Fight to Lead Afghanistan into the Future
by Fawzia Koofi and Nadene Ghouri.
This book is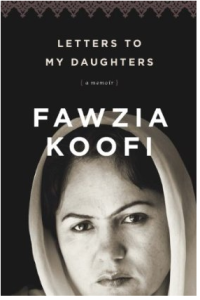 a new experience for me. Over the years I have read a number of books on Islamic cultures and countries. Every single one of them was written from the point of view of either a Western journalist, a member of the relevant country's upper class, or an academician. Those points of view are valuable and definitely worthy of attention. But what was missing for me — and is provided by Fawzia Koofi in her book — is the view of someone from an extremely rural and profoundly traditional background. Koofi has a particularly cogent viewpoint with respect to womens rights in afghanistan.
Koofi rose to become the first woman speaker of the Afghan Parliament, so we can say that she is now a member of the upper and educated class. But here's a sense of her roots:  She was born the nineteenth daughter of an important leader in the poorest part of Afghanistan, the province of Badakhshan. (Her father represented the province in the Afghan parliament.
Her mother, one of Fawzia Koofi's father's seven wives, was so distraught at giving birth to another daughter that she ordered Koofi placed out in the sun for 24 hours after birth, in the hopes that she would die. When Koofi did not die, her mother relented, feeling it was a message from Allah. Koofi ultimately grew to tremendously love and respect her mother, despite the fact that Koofi's modern values would never allow her to contemplate such a thing for her own daughters (or anyone else's).
It is also clear that Fawzia Koofi greatly respected her father, although she could not have loved him, as he only spoke directly to her once in her life, and that was to tell her to get out of his way. (He died when she was only four.) The reason: As a daughter, she was not valued in any way at all.
Her father also routinely beat her mother whenever she made the slightest error as a wife, for example in her cooking or other such thing. And he would sometimes beat her into unconsciousness. Yet both father and mother saw this as a sign of his love for her. The modern Koofi — the one writing this book — in no way approves of this behavior. But neither does it cause her to lose respect for her father, who did much for his village and his province, and ultimately died for his efforts.  (Because her father was a representative to the national government, the mujahadeen murdered him in the early days of that movement.)